Hi, my name is Ann Gates and I am owned by the Eagleridge Rhodesain Ridgebacks.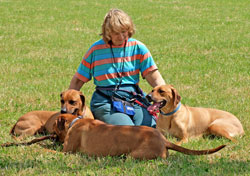 We live on a small holding in North Yorkshire in the U.K and the dogs share their domain with my herd of pedigree Dexter cattle and a cat.
I became the proud owned of my first ridgeback in 1963 while working at a Zoo in Yorkshire.
Sheba was bred by Mrs Bloom of Kirawa Ridgebacks and her dam & grand dam came back with the Blooms from Kenya. She had been brought from Mrs Bloom by a colleague without consulting his wife who was not impressed with this new purchase and promptly dispatched her back to the zoo and my care which resulted in her eventually coming home with me to live.
Hence the start of a long love affair with Rhodesian Ridgebacks
I obtained my second ridgeback in the early 70's and after leaving zoo life decided that I would like to show my dogs, however Melissa was not up to show standard so Tamara joined our family and became my first show dog. Tamara is the foundation bitch for my line.
Apart from showing my dogs I have always been interested in attempting to have a reasonably well trained hound so have always done basic obedience at our local club, and now I semi retired I have become involved with training the beginners and running the K.C Good Citizen Silver & Gold schemes.
Niketta & Woody take me of to agility training in the summer, and Chelsea is my current show girl, so life is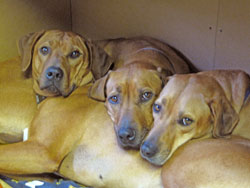 never boring around here.
I am also a United Kingdom Kennel Club Approved Championship judge and have been very fortunate in being asked to Judge in several countries around the world.
Ridgebacks are not a breed for everyone so I hope you will find my site informative about living with ridgebacks
We occasionally have a litter of Rhodesain Ridgeback puppies, and are always happy to talk ridgebacks with prospective owners.
I have endeavoured to make this site a source of information for either owners of ridgebacks or anyone who wonders if this is the breed for them, feel free to browse.
I hope you will enjoy my visiting site, meeting my dogs and drop by occasionally to see what we have been up to.