Chelsea's full name is Eagleridge Chelsea Girl and she was born in 2005 her mum is Just Niketta of Eagleridge and her sire is International, Irish & English Champion Imbali Kipenzi JW. She was from a litter of ten puppies. Chelsea is a very feminine girl and super dog to be owned by.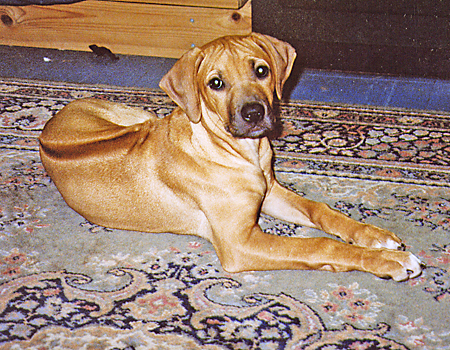 Apart from being a Show dog, Chelsea is a fun girl and just loves to play with her Mum and brother Woody and as you can see from the photo's just love the snow when we get any.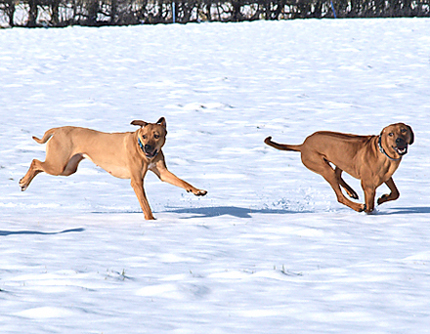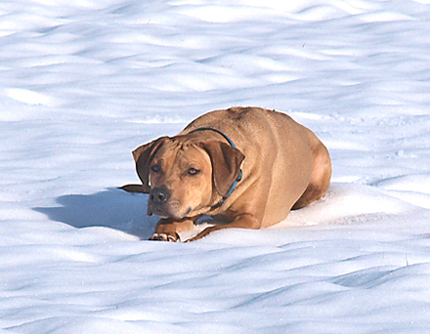 She is also good at obedience as long as it does not get to serious. She holds her Kennel Club Bronze Good Citizen award and was in the process of working towards her Silver award when we decided to take time out, for a litter.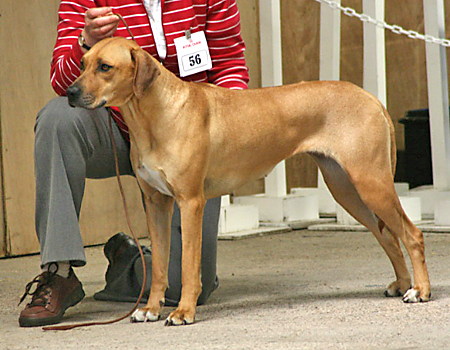 Chelsea was mated to Nyassa Bruk in 2009 and In July she became the proud Mum of eight puppies . Both Chelsea and Bruk have excellent hip scores Chelsea's is 3-3 (total for both hips 6) Bruk's hip score is 4-3 (total for both hips 7) (The current average for ridgebacks is 11) The mating produced 8 puppies in July 2009 (all puppies where ridged one had an extra crown and there was no sinus in the litter)
Apart from one puppy Maggie Mae ( See Maggie Mae own page) who has joined her mum to stay with us, the rest of the puppies have gone to wonderful homes.
Chelsea is now back in training and inSeptember 2010 year she passed her Kennel club Good citizen Sliver Award.(KVGC).
Our next goal this year ( 2011) is the KCGC Gold award, which is a more difficult test and as Chelsea can be quite independent minded it could be quite a challenge.